Lifestyle
A Day In The Life of A Blogger with HP Spectre x360
When I started this blog, I had absolutely no idea where it would take me. Being able blog full-time is honestly a dream come true and I am so humbled by it. Despite what my Instagram feed might look like, it isn't all fashion and glamour. It might be different for other girls but to be honest, most of my workday requires me to have a work on my laptop. Between all of the errands, the meetings, and on some days, back to back events, I always have to be on-the-go. Which is why jumped at the chance to partner with HP to try out their new Spectre x360 — a sleek laptop that you can literally fold completely over into a tablet and take anywhere with me!
Why I love HP Spectre x360
The portability and versatility of this laptop has changed the game for my work life! Because it is so light and sleek at under 3 lbs, I carry it in this leather case and bring it everywhere with me. I especially love the pen that I can use to draw/write on the touchscreen—so cool!
The best part about this device is that it is a laptop that can be converted into a tablet. I appreciate this design especially when traveling— I can write content and then when I get tired, flip it over and watch Netflix on the gigantic tablet.
This beauty is built for creativity and long lasting power. I love that I am able to view and edit my photos with the Active pen and see the details on the 4K display with 8 million pixels of detail. I never have to worry about it dying on me while I am out with up to 16 hours of battery life and HP Fast Charge.
Read on to see how I use the Spectre x360 in a typical workday...
A Day in the Life of A Fashion & Lifestyle Blogger
6:30am– I open my eyes but doesn't mean I am awake. I scroll through my feed on my phone. Have a quick look at my e-mail and flag the ones I need to reply to.
7am– Usually under protest, I get up, shower, brush my teeth, and get ready for the day. I change out of my PJs and into my comfy loungewear since I usually just work from home.
7am– At this point, I am at the kitchen island with my Spectre x360 , lemon water, coffee and a banana. I wait for my brain power juice to kick in and schedule out my posts and share my posts in blogging Facebook groups. I use the digital pen and start jotting down a quick to-do list for the day on my virtual sticky-notes.
8am– About this time, I'm in my favorite little nook and this is when proper work begins. I spend another hour or so on my emails and social media inquiries. Then start to brainstorm a few ideas for shoots and locations and look at what needs to be scheduled over the coming weeks.
10am– At this time, I go back upstairs to change into my outfit of the day to shoot. I meet up with my photographer and some times with my best friend to take photos for the blog.
12pm– After the photoshoot, we usually stop at a cafe where it's time for my first meeting and second coffee of the day. I catch up with PR agencies to talk through collaboration ideas at a cafe. I love that I can easily capture what's on my screen and mark it up with my digital pen and share it with brands with just one click.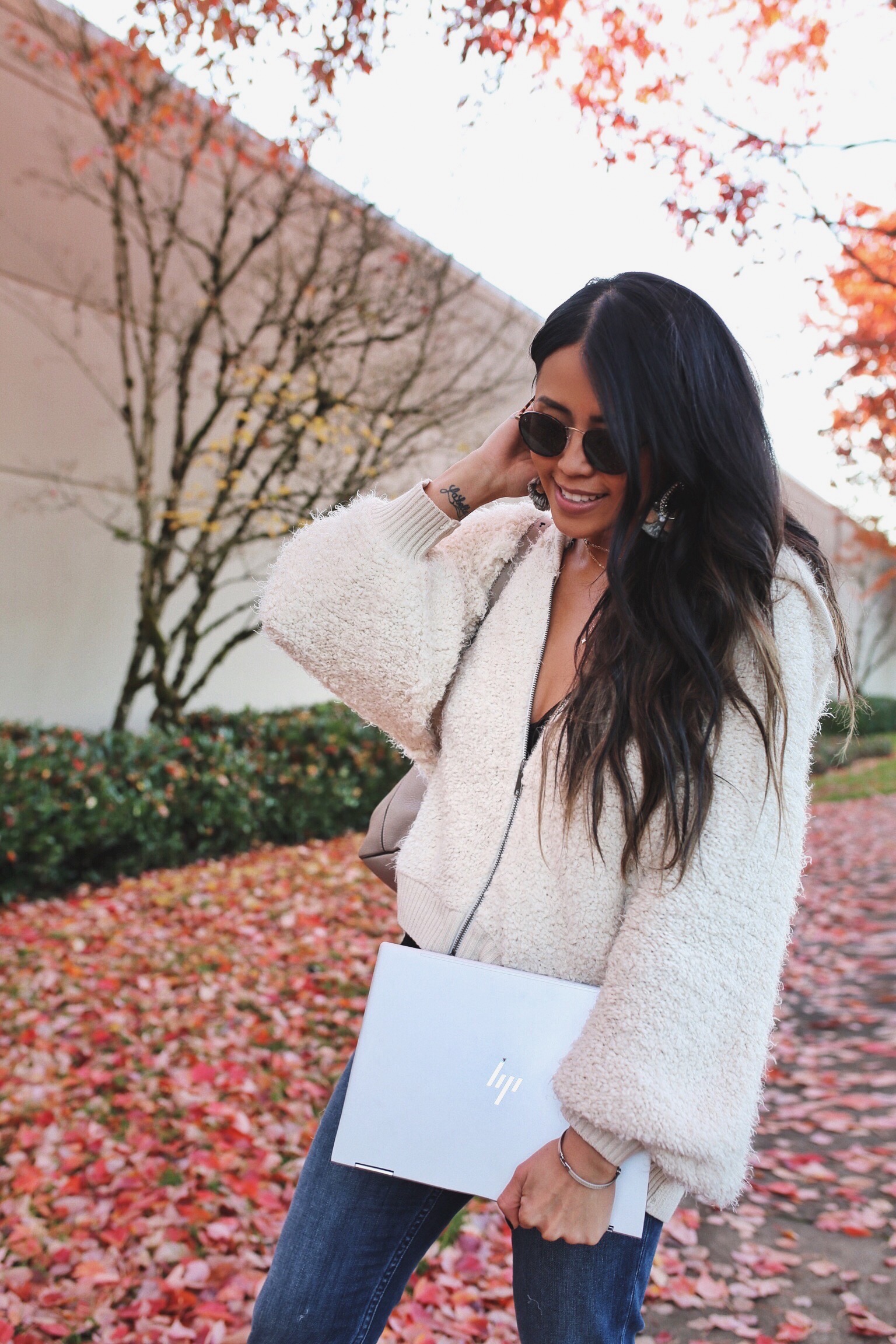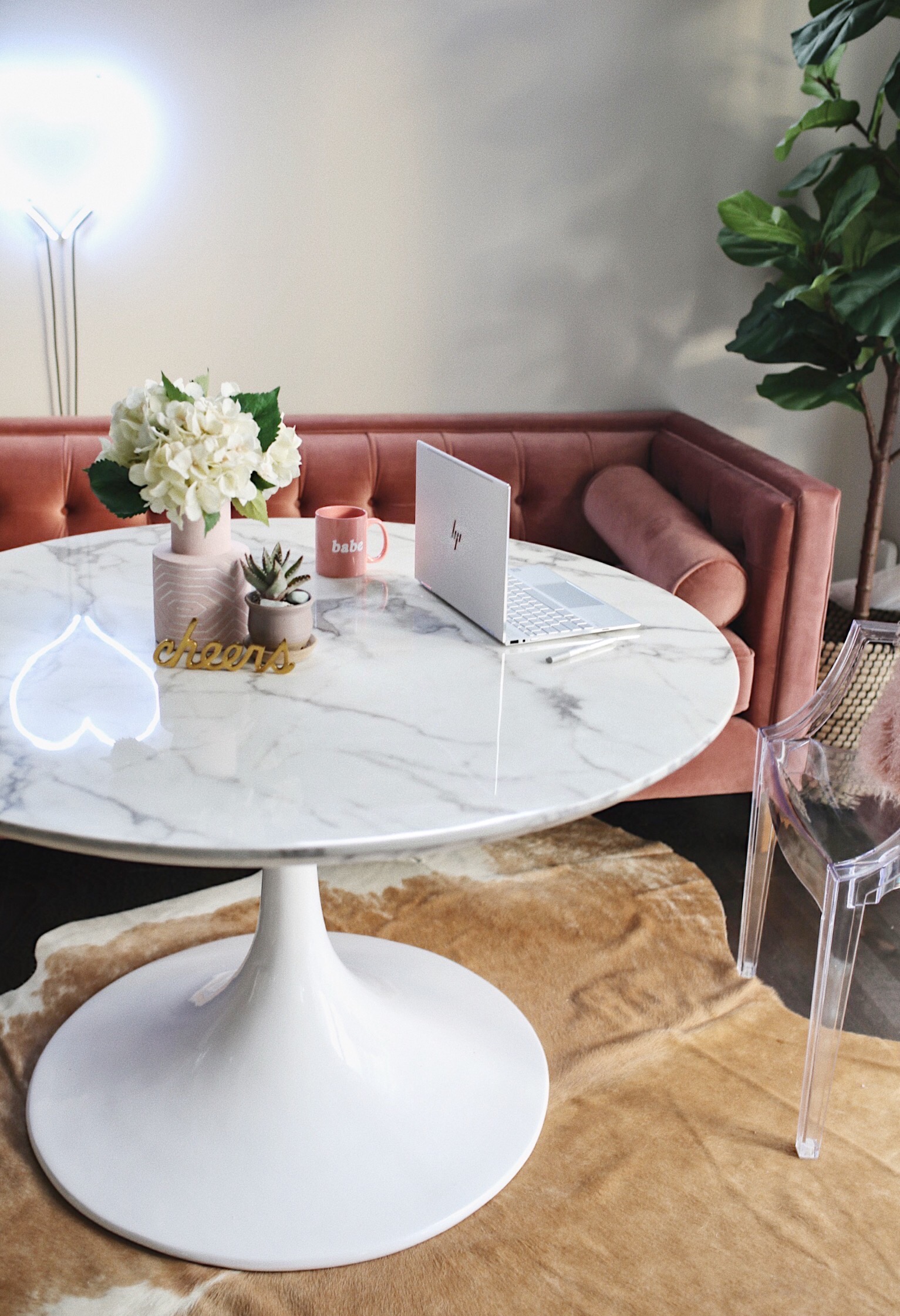 2pm– Sometime around here, I am usually back in my home office or my breakfast nook to answer a few more emails. Once I'm feeling a little on top of things, I like to do a little bit of editing and sort my images for blog posts and start linking items on the Liketoknow.it App. I will continue to work on blog posts, social posts, emailing with brands about upcoming projects, or any other blog work from now until 5:30pm or so.
6pm– Leif gets home and I start dinner. I usually am the one who cooks and he cleans. I use a food subscription box, Sun Basket and love it! We eat, chat, and watch a shows from Hulu or Netflix.
8:30-11pm– We go upstairs. Get ready for bed. We lay in bed together and watch shows. Leif is usually asleep by 9:30. I am a night owl so I do my last bit of work of the day. I continue to watch my shows and edit photos and do admin work all on my trusty Spectre x360 .
Reinvent Giving with HP Spectre x360
I told you my life isn't all that glamorous and I spend a lot of time on my laptop and I am so grateful for the Spectre x360!
And since the holiday season is around the corner, I will also be teaming up with HP to use my Spectre x360 to give back as part of their #ReinventGiving campaign. This campaign has really inspired me to to give back and I would really encourage all of you reading this to give back to spread the Holiday cheer! I love that HP has initiated this amazing campaign and can't wait to share more. 😍
xx Sabrina