beauty, fashion, Lifestyle
Favorite Finds of 2017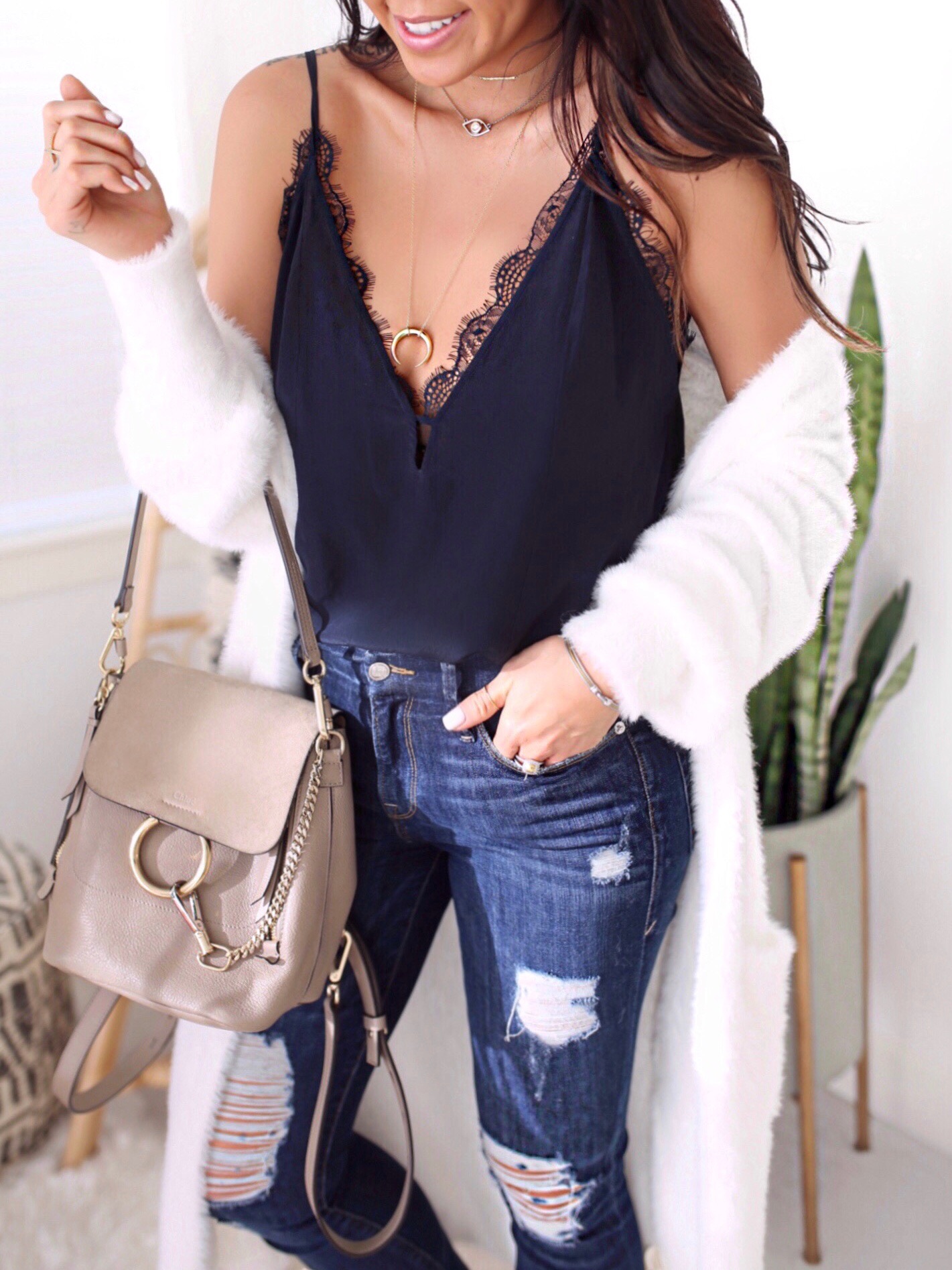 With 2017 just behind us, it's a perfect time to go over some of my favorite finds of 2017. As a blogger, I either buy or receive a lot of different products to try so you can buy with confidence because these are items I can't live without. You may have probably even seen some of these items on my Instagram/blog on repeat but that is because I truly LOVE it. So without a do, here is a list (in no particular order) of my favorite finds of 2017. You can click on any of the images and text below to shop!
Designer Bag
I am seriously in love with this Chloe Faye Backpack!! If you were to invest in a designer bag, I would highly recommend this. It is the cutest little backpack that can also be worn as a handbag. I love how chic it is but it isn't too flashy with designer logos all over it.
Ok, the sizing is tricky... there are actually three sizes but they label it as (mini, small, medium). So the one I have is the largest one labeled as 'medium'. I've been using this bag on and off as my everyday bag for almost 8 months. The quality is still in excellent condition! And trust me, I have used it on travels & it gets tossed around. It's super durable and I love the color! I had originally gotten the brown one but I found this color went with my color palette (whites/neutrals). It is my favorite investment & a treat to myself for my 30th birthday.
Crescent Necklace
If you follow me on Instagram and watch my stories, then you have probably seen me wear this Crescent necklace... over, and over, and over again. I think I have been wearing it for the past 3 months! I change it up by layering it with shorter necklaces.
Silk Cami
I literally wear this soft silky lace cami all the time. I have it in 2 colors (night & taupe). I love the build-in lacey brami overlay for an effortlessly layered look. So perfect, tucked in and paired with your favorite cardigan.
For sizing reference, I bought my regular size (medium) it is a bit loose.
Distressed Skinny Jeans
I am not gonna lie, I freaking LOVE  these Good American jeans. These are super flattering on all most body types. I would definitely recommend sizing down because it does stretch a bit. I bought a 4 (normally a size 6).
C E FERULIC
Ok you'll notice that I am not afraid to splurge on good skin products. I get asked all the time about my glowy skin.. (other than the fact that I drink m0re water than anyone you know), I have to give credit to SkinCeuticals C E Ferulic. It is a HOLY GRAIL product. My skin is very dewy and glowy after using this for a few weeks. I know it's expensive but it will last 9 months.. and to have amazing skin is SO well worth the hefty price tag!!
Bacteria-Resistant Face Cleaning Device
Love this little gizmo! I bought this FOREO Luna face cleaning device to replace my Clarisonic. It is much easier to keep clean - with no brush heads to replace! You can't get a much deeper clean than with a cleansing brush. I also love the fact that is will not hold bacteria like other facial cleansers. The cleansing action is super gentle and comfortable against my sensitive skin yet my face is left feeling very clean! The battery life is insane too (I only charge it like twice a year).
Bathroom Counter Rotating Organizer
I get asked all the time on Instagram stories about this.. We have two of these rotating organizer- one on my side and one for my bf which sits on our bathroom counter for organize products we use everyday. This organizer was very easy to put together with adjustable shelves. Because it's vertical this organizer uses little counter space! Overall such a great find because I hate clutter!!
Cactus Art
If you have been following me for a while, then you probably have seen this gorgeous Cactus Art in my decor in my previous master bedroom. I really think this print sort of made my room Insta-famous. I get DM's all the time from people saying they bought this because of me! So fun to see how I have inspired you guys!
Faux Fiddle Leaf Tree
You know you're ahdulting when you ask for a faux fiddle leaf tree for your birthday. I have seen a lot of fake options and this one is THE best one I have seen. I got the 7' one but looks like they now offer a smaller fuller version. Recently, I got brave and bought a couple REAL ones but I love this faux one for filling up dark corners. Perfect for my non-green-thumbers (is that a word?).
Chunky Knit Blanket
Chunky knit blankets add texture and warmth to any space!! It's a MUST HAVE you guys. Words can't even explain how warm and cozy it is.
---
WHAT I AM WEARING / USING
---